Jörn Donner's unique photographs to be exhibited at Villa Hakasalmi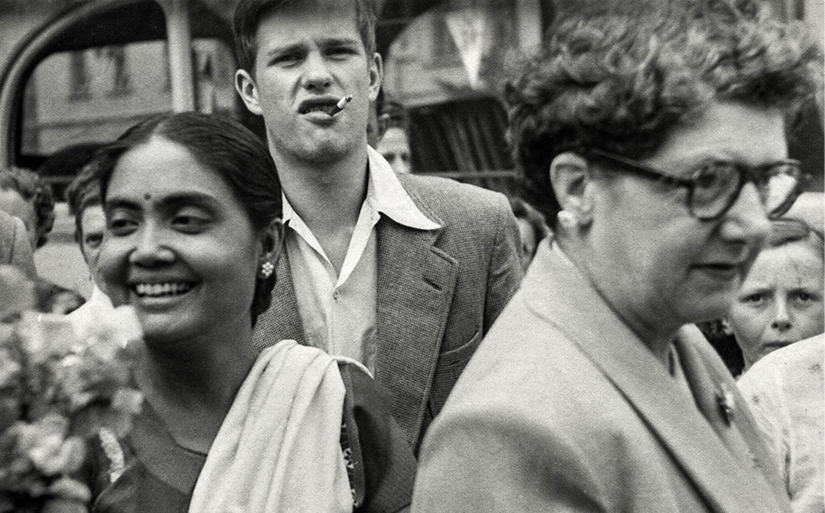 Film director, writer, and politician Jörn Donner made countless journeys abroad over the decades he worked as a reporter. Donner's remarkable photo archive was not discovered until after his death, but now the cream of the crop is to be exhibited at Villa Hakasalmi from 31 March to 3 September 2023. The photographs in the retrospective exhibition date from 1951 to 1968.
Jörn Donner (1933–2020) travelled throughout his life, and he left behind a remarkable archive of photographs. The existence of Donner's photographs – and their real quality – only came to light a few months after his death. The images reveal a completely new side of the multi-talented Donner, which you can witness in the photo exhibition Jörn Donner – Travelling 1951–68, opening at Villa Hakasalmi on 31 March.
The photographs are of high artistic quality, showing people, encounters, street scenes, and travels ranging from the Sahara Desert to the Cannes Film Festival. There are pictures from all over the world – Europe, Africa, Asia, the Far East, the United States, and Latin America. They record fleeting moments captured by Donner's camera: ordinary everyday life, politicians, and the splendour of film stars. Landscapes and cultures of the past come to life in an unexpected way in the exhibition, which also includes a few letters written by Donner and souvenirs from his travels.
The exhibition working group consists of Tuula Kousa, Anders Carpelan, and Hannamari Shakya, who have worked in Donner's residence at Pohjoisranta 12, among other places. As the curator of the exhibition, Hannamari Shakya went through the entire archive. Based on Jörn Donner's original idea, the working group decided to focus on photographs taken on trips abroad. The trio has also co-authored a book entitled Jörn Donner – Matkalla, På resa, Travelling 1951–1968, which Donner Productions and Otava will co-publish around the time the exhibition opens. Researcher Jaana Munck is producing the exhibition on behalf of the Helsinki City Museum, and exhibition design is by Osmo Leppälä.
"It is a challenge to choose photographs posthumously, since the task of a curator is to ask questions, for which in this case there can be no answers. The photographer bares a side of himself or herself through the camera lens. Here we have Jörn Donner, publicly a provocative figure not given to signs of humility, revealed above all as an individual with an avid, inquisitive, and very human gaze", says Hannamari Shakya.
Jörn Donner – Travelling 1951–68
31 March–3 September 2023
Villa Hakasalmi
Mannerheimintie 13 B
00100 Helsinki
Open: Tue 11.00–19.00, Wed–Sun 11.00–17.00, Mon closed
Entrance fee €14/10, free admission for visitors under 18 years of age and with Museum Card