Volker von Bonin's retrospective photography exhibition takes us to historic Helsinki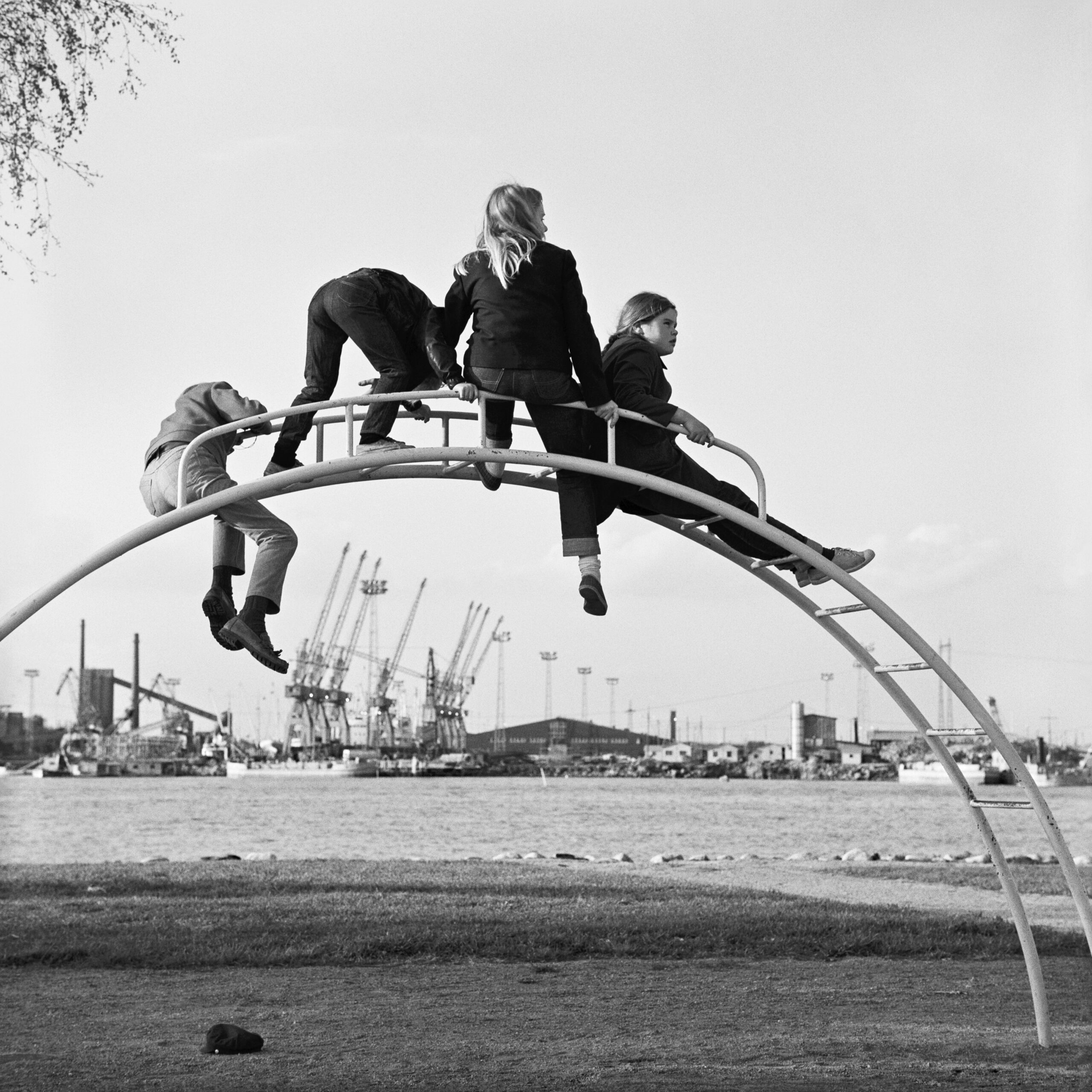 'A Glimpse of Helsinki' is a nostalgic photography exhibition featuring the works of German-born Volker von Bonin, some of which you may have encountered before. However, the photographer himself has remained unknown as a person. The exhibition and the book published in connection with it now also tell his life story.
Volker von Bonin (1924–2006) was a humanistic photographer who focused on capturing the everyday moments and urban landscapes of Helsinki. His lens not only captured the cityscape and buildings, but also people's lives and phenomena in Helsinki. The exhibition consists of over a hundred photographs from the 1950s to the 1980s. In the photos, von Bonin looks at Helsinki – close, but through the eyes of an outsider, enabling him to capture unique moments in a distinctive manner. Through his photos, you can feel the atmosphere of children playing outside, the everyday routines of construction workers, the enjoyment of people winter swimming, the faces of people waiting for a bus, or the hairstyles of rockers sitting on church steps. 
The life story of Volker von Bonin is a multifaceted journey. He attended a German-language school in Helsinki but only settled permanently in Finland in the 1950s after being hired as a photographer by the printing house Tilgmann Oy. In addition to his professional duties, he documented Helsinki and its people through his photography. Over several decades, von Bonin took thousands of photos and created about twenty photo books centered on Finland and its capital. His family attests to his sense of not quite belonging in Finland, in terms of both culture and language, leading him to live between two cultures. 
The exhibition is curated by Chief Curator Tuomas Myrén from the City Museum's Picture Archives, with exhibition designed by Osmo Leppälä. As of its opening on October 6th, the Helsinki City Museum and Parvs Publishing Ltd will jointly release a biography of Volker von Bonin, featuring his photographs and written by photo historian Yki Hytönen. You can purchase the book at the museum shop at Villa Hakasalmi, the City Museum, the Tram Museum, and local bookstores. 
"Von Bonin's photos depict people with compassion yet maintain a certain distance. This creates a captivating blend where the city and its people coexist seamlessly. His photos are unpretentious but also reveal a gentle and even humorous perspective. Despite living through the Second World War and its aftermath, von Bonin found a way to express himself through humanistic photography. His interpretation resulted in photographs that view the world through an optimistic lens," Hytönen states. 
On November 23rd, at 17:00–22:00, the A Glimpse of Helsinki – Volker von Bonin's photos exhibition will transform into a dance and sound experience. Dancer-choreographers Tiia Hämäläinen and Jaakko Simola, along with audio artist Marika Hyvärinen, have created a performance at Villa Hakasalmi as part of a six-museum experience tour. The participating museums include the Design Museum, HAM, Villa Hakasalmi, Helsinki City Museum, Kunsthalle Helsinki, and the K1 gallery of the Finnish Museum of Photography. During the event, admission to the museums and performances is free. 
A Glimpse of Helsinki – Volker von Bonin's photos
6 October 2023 – 25 August 2024
Villa Hakasalmi
Mannerheimintie 13b
Open Tue 11:00–19:00, Wed–Sun 11:00–17:00, closed on Mon
Admission fee €14/10, free for Museum Card holders.
See all events
Photo: Children playing on a climbing frame in Tervasaari, 1969. Volker von Bonin / Helsinki City Museum